M
ary Raymakers is a World-Renowned Master Sacred Shaman, and Executive Director and instructor for
New Wisdom University
, an international spiritual organization.
For over twenty years, Mary has been unleashing people's unlimited potential to empower them to live their life's true purpose. In her shamanic practice, Mary has worked with thousands of people to help them create significant emotional, mental, spiritual and physical changes. She intimately knows how to get you out of your own way to create even greater professional and personal success!
Mary discovered that it is one thing to help her clients clear the blocks that prevent them from feeling fully alive, fulfilled and purpose-driven with her shamanic work, but she often found that people needed some additional coaching and step-by-step instructions—like getting a new roadmap for life—in order to recreate their lives to live fully, passionately and on-purpose.
New Wisdom University is a non-profit spiritual school that offers that kind of new-life roadmap. Plus, Mary and the founder, Dr. Dawn Covington, are excited to be offering a new Soul Healing series that will provide students with the necessary steps to actually heal their souls and then recreate themselves to live their dream life.
This series consists of seven 1-hr introductory workshops. You can come to one workshop, or come to them all.  You can attend through cyberspace via Internet or phone or attend in person at Medicine Wheel Wellness in Jackson, Wyoming.
Find out more information about how to attend the Soul Healing series by going to New Wisdom University Courses and Workshops page or by clicking on the image to the right.  You can also register immediately by going to the Medicine Wheel Wellness Upcoming Workshops page.
Mary is currently housed in Jackson, Wyoming, at Medicine Wheel Wellness, a holistic alternative care wellness center that incorporates the healing of body, mind, emotion and spirit. Here, she works with people in person, but she also works with people from around the world via phone and Skype.
Are you ready to feel an even greater sense of clarity, passion, freedom and purpose?
Whatever is holding you back—from negativity, to addictions, to pain and hurt (such as grief, fear and doubt, unworthiness and low self-esteem) to being victimized by abuse of any kind, to toxic relationships—you can overcome and gain your freedom to live YOUR life as the greatest expression of the REAL you.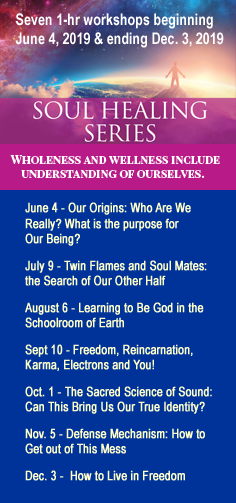 A shaman is one who understands the laws of both the spiritual or energetic dimension and the material world and works with the spiritual elements to change the material elements. Thus, a shaman can erase the burdens found in our lives and bring balance.
Mary's work includes workshops, retreats, unique one-on-one experiences, private sessions and radio and television interviews. Mary has been a frequent guest on television and radio (click on
Video
for some episodes), and is a sought-after retreat speaker.
"My work with Mary Raymakers was the final piece to healing my past pain and trauma, both physical and emotional. The two-hour session was over before I knew it and I left feeling at peace with myself and strong to live my life in the present and excited about the future. I saved myself years of future therapy and physical symptoms and illness by this unique and wonderful work. I am grateful to Mary, as she changed my life with her gift."